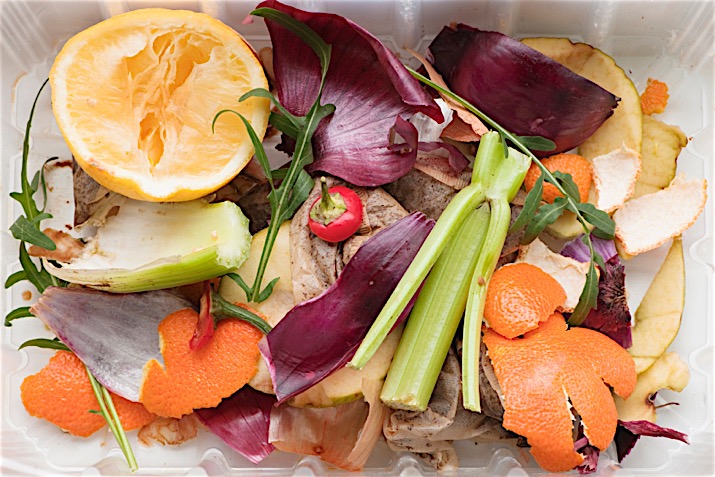 April 20, 2018
Earth Day Starts at Home
I have a confession to make. Sometimes, in the course of my week, I make too much food. Sound like a good problem to have? Well, it seems to be alarmingly common in our affluent country. My excuse is that I develop recipes for a living, so I test recipes even when I already have food to eat. My family, friends and neighbors all benefit from my overproduction, but more often than I would like, things go to waste. That half a jar of tomatoes for the pizza I made a couple of weeks ago got ignored when I moved on to testing dessert recipes. Then, we meant to finish all that cake, but by the time we realized that we couldn't eat another bite, it was stale.
I feel terrible about it, every time, and resolve to do better. This year, for Earth Day, I'm going to do my small part to cut back on waste.
Earth Day started in 1970, back when there was no regulation of pollution. It was perfectly legal to dump sewage in the river, or send tons of toxins up in smoke. That year, Senator Gaylord Nelson created Earth Day, and 20 million Americans came out in solidarity across the country. By that December, Congress created the EPA, and started reining in industrial polluters and protecting our air and water.
Since then, Earth Day has become an annual reminder that we still have work to do, on recycling, cleaning up our toxic industries, as well as not wasting food.
Dried up carrots, moldy nubs of cheese, and stale bread heels pile up in refrigerators across the USA, and they add up to billions of dollars in food waste. In fact, food scraps are the number one thing that goes to the landfill. According to the EPA, our uneaten food contributes 25% of our methane emissions, as it breaks down in the dump.
We waste food at all points in the supply chain, so it's not just your fridge that's causing problems. At harvest, it gets damaged and tossed on the way out of the field. At the processing plant, things spoil or stick to the machinery and get rinsed down the drain. Grocery stores have to sort through and discard produce that isn't perfect, although some of that is picked up by food shelves (a recent study found that food co-ops recycle 74% of food waste compared with a recycling rate of 36% for conventional grocers.) Out of date packaged goods have be pitched, as well. Restaurants and food service fill dumpsters with all the food we leave on our plates, combined with things that didn't sell in time.
We have gotten into wasteful habits, in part because food is relatively cheap. We are a prosperous nation, and I'm betting that most people don't think calculate how much the food they toss actually costs. When you clean out the fridge, do you compute the 49 cents for the half an apple, or the $2.29 for a few slices of out-of-date lunchmeat? Beyond the cost, the carbon emissions add up, fast.
I am going to work to waste less this year and use more of the food I buy. If you'd like to do the same, here are a dozen tips that can help reduce your waste, and as a bonus, save you money!
12 tips to reduce food waste
1. Use those radish and carrot greens
Buying radishes or carrots by the bunch? Use the leaves to make pesto, salads (like Moroccan Carrot Radish Salad), and toss in soup. Think of them as peppery parsley.
2. Savor broccoli and cauliflower stems
Do you discard broccoli and cauliflower stems? Peel the tough skin from the stems and chop the tender cores to use in the dish, or cut in planks to eat with dip.
3. Cook kale stems like you would celery
Do you discard kale and other greens stems? When cooking with kale, you can simply separate the leaves from the stems, chop the stems, and cook the stems first; they will cook a bit like celery. If you juice, save all your greens stems from meals you prepare, including parsley, and add to your juice for a chlorophyll boost.
4. Flavor stock and other dishes with potato peels
Do you peel potatoes? The peels make a flavorful addition to stock, and even thicken it a bit. Consider whether you even need to peel; many soups, potato salads and even mashed potatoes are more nutritious and filling with the skins left on.
5. Enjoy the flavor and nutrition of apple peels
Baking or cooking with apples? Leave the skins on and you will reap the nutrients and fiber they contain, and save time. If you do peel, add them to soup stock, for a subtle sweetness.
6. Zest your citrus and freeze for future use
Juicing a lemon or lime or eating an orange? Zest your organically grown citrus first, then you can freeze the potent zest in a freezer bag, for adding a hint of citrus to everything from muffins to pastas.
7. Peel overripe bananas and freeze for smoothies or baking
Are those bananas looking a little too brown to put in the lunch box? Peel and freeze them, then add them to smoothies, or thaw and puree for banana bread, muffins and cakes.
8. Puree and freeze veggies before they go bad
Do you have veggies going soft in the crisper? Cook and puree carrots, sweet potatoes, greens, cauliflower, and other veggies, then freeze. Stir the purees into pasta sauce, macaroni and cheese, soups, casseroles and meatloaf for an added veggie boost.
9. Save veggie trimmings for soup stock
Cutting up vegetables for a dish? Save and freeze the skins and trimmings from onions, carrots, celery, sweet potato, potato, parsley, spinach, and other mild veggies (peppers, cabbage and broccoli can be too strong) until you have a good amount to make Veggie Trim Stock.
10. Use up stale bread in flavorful recipes
Do you have bread going stale? Freeze the slices to use later in stuffing, croutons, or recipes such as Ribollita soup, Creamy Lentil Soup with Wheaty Croutons or Flexible Bread and Veggie Casserole. Make croutons for salads and soups, or crumbs to toss with pasta or top casseroles. Don't forget about bread pudding and stratas, too.
11. Keep food that needs to be consumed soon front and center
Organize your refrigerator and pantry, and put foods that should be consumed sooner right in front. Switch your storage containers from opaque to clear glass, so that you will see that tasty lasagna from last night, because out of sight is out of mind.
12. Turn your vegetable scraps into fertilizer
Do you have room for a compost pile or a worm bin? Ultimately, transforming your plant waste into fertilizer is better than packing it in the landfill.
By Robin Asbell
Article originally published on the "Co+op Stronger Together" Website