Local Art Shows at the Co-op
Each month, local artists are featured in our welcoming and vibrant seating areas. To date, the work of over 350 local artists has been displayed and admired by Co-op customers and staff.
Show Your Art
We are looking for local artists to display. Send your interest along with samples of your work!
Apply for an art show at the co-op
Current Featured Local Artists
Denfeld
Cherry Hanna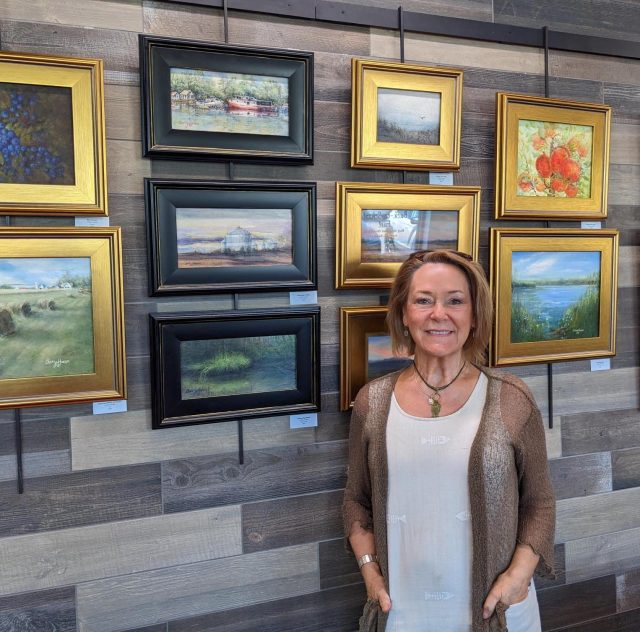 Hillside
Kris Trembley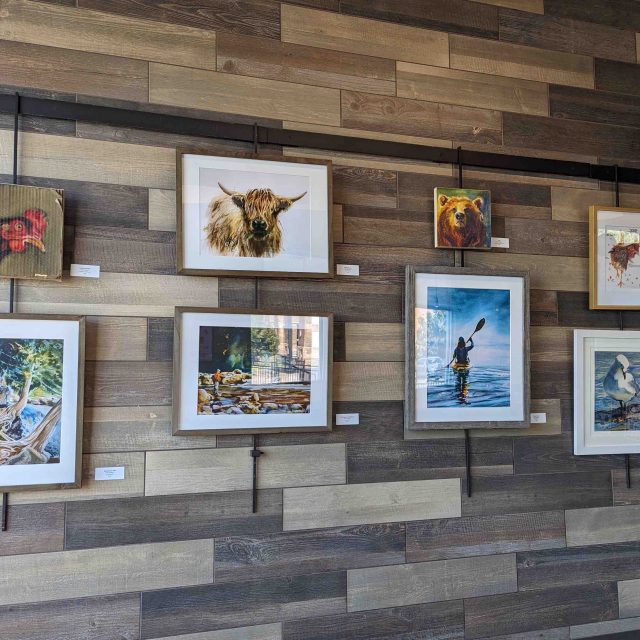 ---
PERMANENT ART DENFELD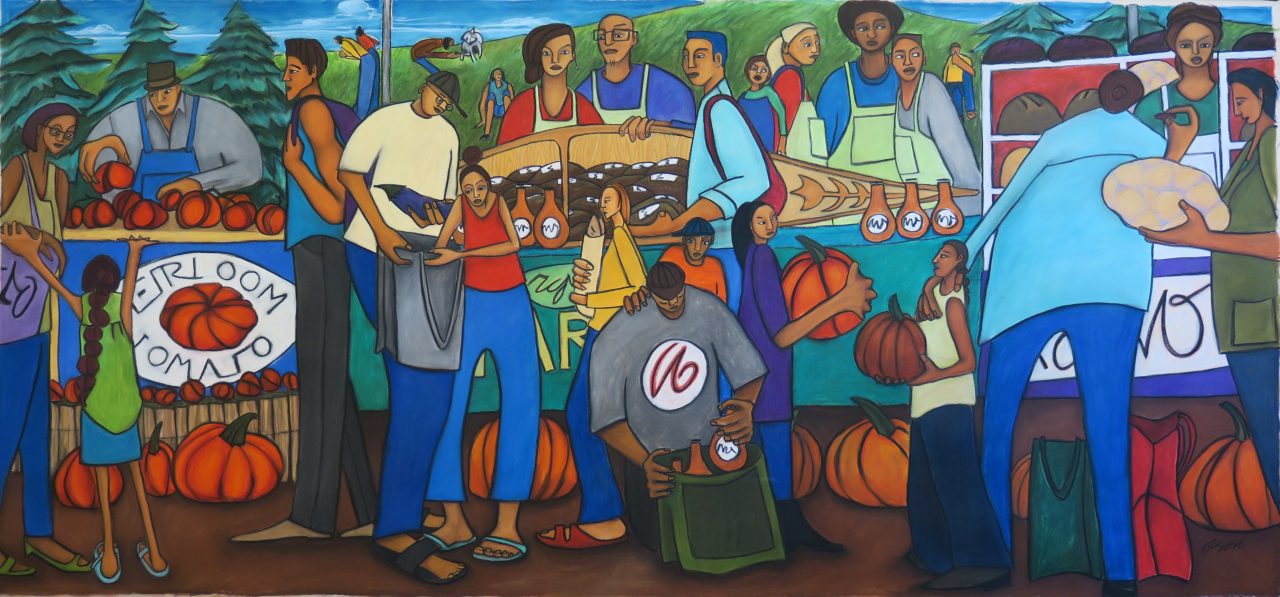 Farmer's Market
Pastel
Artist: Carolyn Olson
In February 2023, a 4ft. x 8ft original pastel was placed for permanent display in the classroom at Denfeld.
"As a narrative artist, I always enjoy visually retelling what I see or hope to see in my family, friends, and community. Farmer's Market is one of those hopeful stories where a diverse community purchases food grown and prepared locally. Adults and children shop together and have opinions about tomatoes and pumpkins and bread. It is a safe and encouraging space – one that is found when everyone is able to work together. 
I believe art should inspire us to be better people. Art can help us understand difficulties as well as reassure us of our goodness. Most importantly, it reflects our world and hopefully pushes us to become more aware of ourselves and understand the world around us. 
Thank you to Whole Foods Co-op for their continued support of local food producers and artists like myself."
-Carolyn Olson, Artist
---
PERMANENT ART HILLSIDE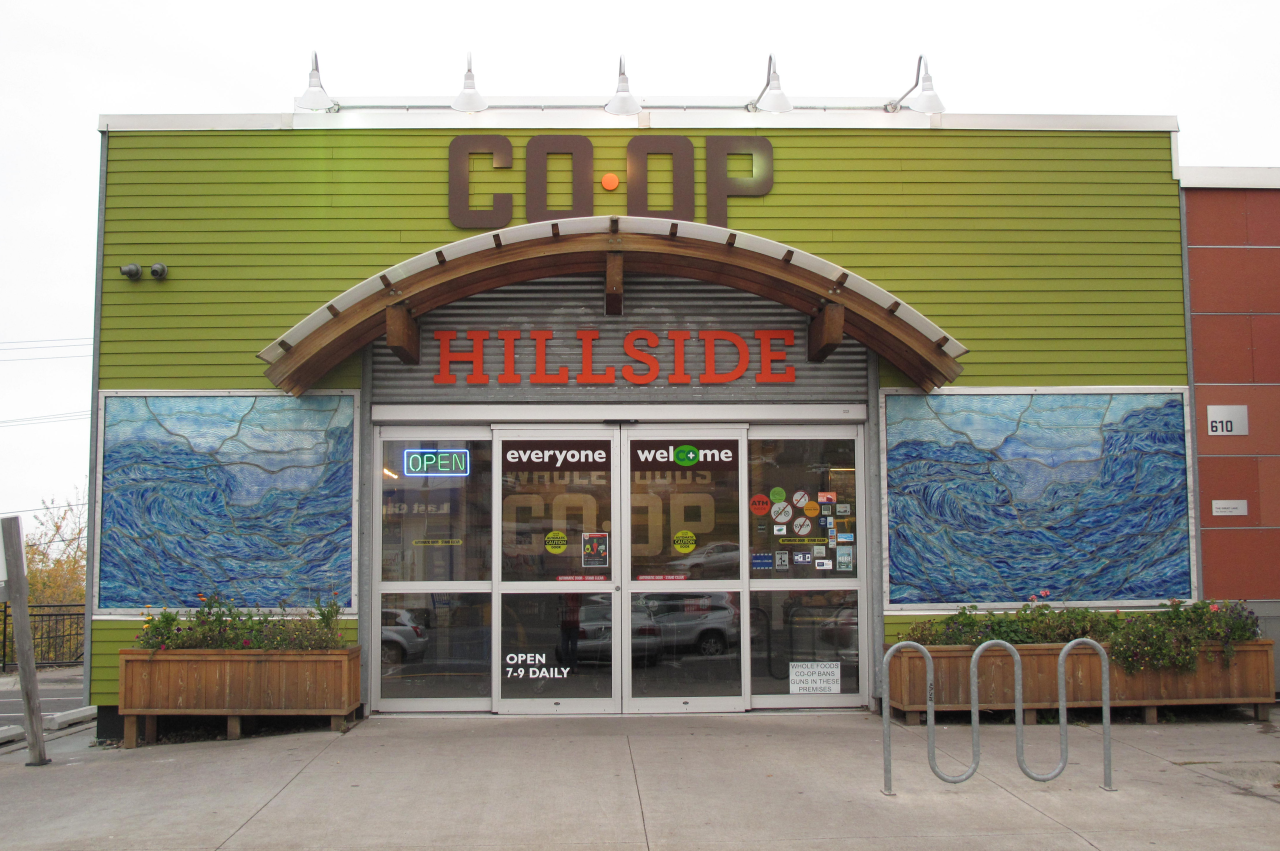 The Great Lake 
Recycled Glass Mural
Artist: Ron Benson
In the fall of 2008, a recycled glass mural, with most of the material salvaged from the demolished Two Harbors High School, was installed on the east end of the Hillside store, wrapping around the entrance.
"I believe that there is potent symbolism in water. It is elemental–all life and good health are dependent upon it. We have the good fortune of living next to the largest body of fresh water on the planet. We have a choice, we can live sustainably with respect for the earth, air, and its waters and be wise consumers, too.
I am an environmentalist. I believe there needs to be a cultural shift to organics and sustainability in all aspects of our lives. Anything that can increase awareness of this need should be implemented. My recycled glass mural will draw positive attention to Whole Foods Co-op and its ethos."
-Ron Benson, Artist
Fun Fact: A contest was held by Mr. Benson to allow a Co-op Owner to name the piece. In January 2009, the name selected was "The Great Lake," submitted by Bonnie Summers.
---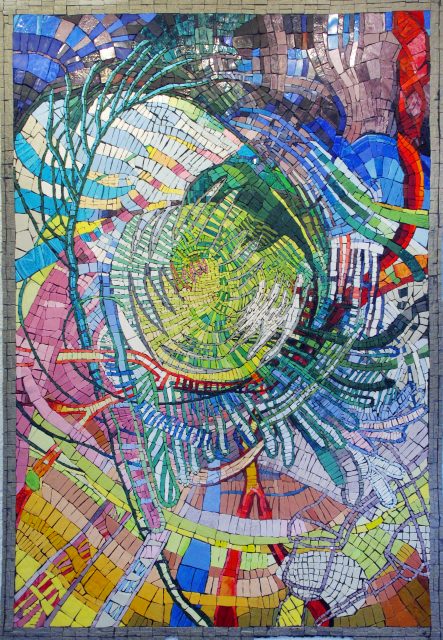 Two Mosaics
Fruiting & Seedling
Mosaics
Artist: Laura Stone
Two mosaics are installed on the interior of the east wall of the Hillside Co-op. They can be viewed as customers wait to check out. The three-year project was completed in the fall of 2008. The pieces, entitled "Fruiting" and "Seedling" represent the idea that energy is at the heart of all things. Except for the material cost, these pieces were donated in the cooperative business spirit.
"Color to color; from one piece of glass to the next — a visual energy unwinds from unseen centers of endless generation. I have put my past experience looking at and drawing mosses, viola blossoms, apple trees, and reflections to work as I did the meditation drawings that the mosaics are based on. Italian glass called smalti is the material cut using tools called hammer and hardie."
– Laura Stone, artist

Fun Fact: The mosaics were developed with the assistance of Charlie Bauer, Deanna and Randy Ellestad, Sandy Bissell, Lawrence Jones, Steve Carlson, Brad Nelson, Alex Comb, and an Arrowhead Regional Arts Board Fellowship Grant.