CO+OP DEALS FLYER

Co+op Deals are for all customers and sales rotate bi-weekly. Co+op Deals features specials on national and regional brands!
Note: We do not carry every product listed in these flyers.
View the latest CO+Op deals flyer 
---
FRESH PRODUCE DEALS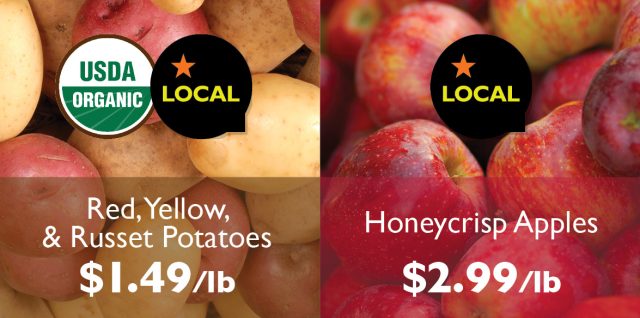 Local Organic Red, Yellow, & Russet Potatoes (from Food Farm): $1.49/lb
Local Honeycrisp Apples (from Dixon's Apple Orchard): $2.99/lb
Organic SweeTango Apples: $2.49/lb
Organic Garnet Yams: $1.99/lb
Organic Colorado Peaches: $3.49/lb
Organic Yellow Bartlett Pears: $1.99/lb
Find these deals in produce now through October 3rd!
---

Next Wednesday, October 4th, Whole Foods Co-op is launching a new way to SAVE at the Co-op called Fresh Deals. Fresh Deals will include weekly sales on fresh foods, including produce, meat, and cheese items. New Fresh Deals will be featured every Wednesday in our weekly email newsletter, this page on our website, social media, and in-store flyers. Check back here next week for our first round of deals.
Whole Foods Co-op is committed to making healthy and local food accessible by offering great deals for everyone who shops in our stores!
---
Bimonthly IN-STORE COUPONS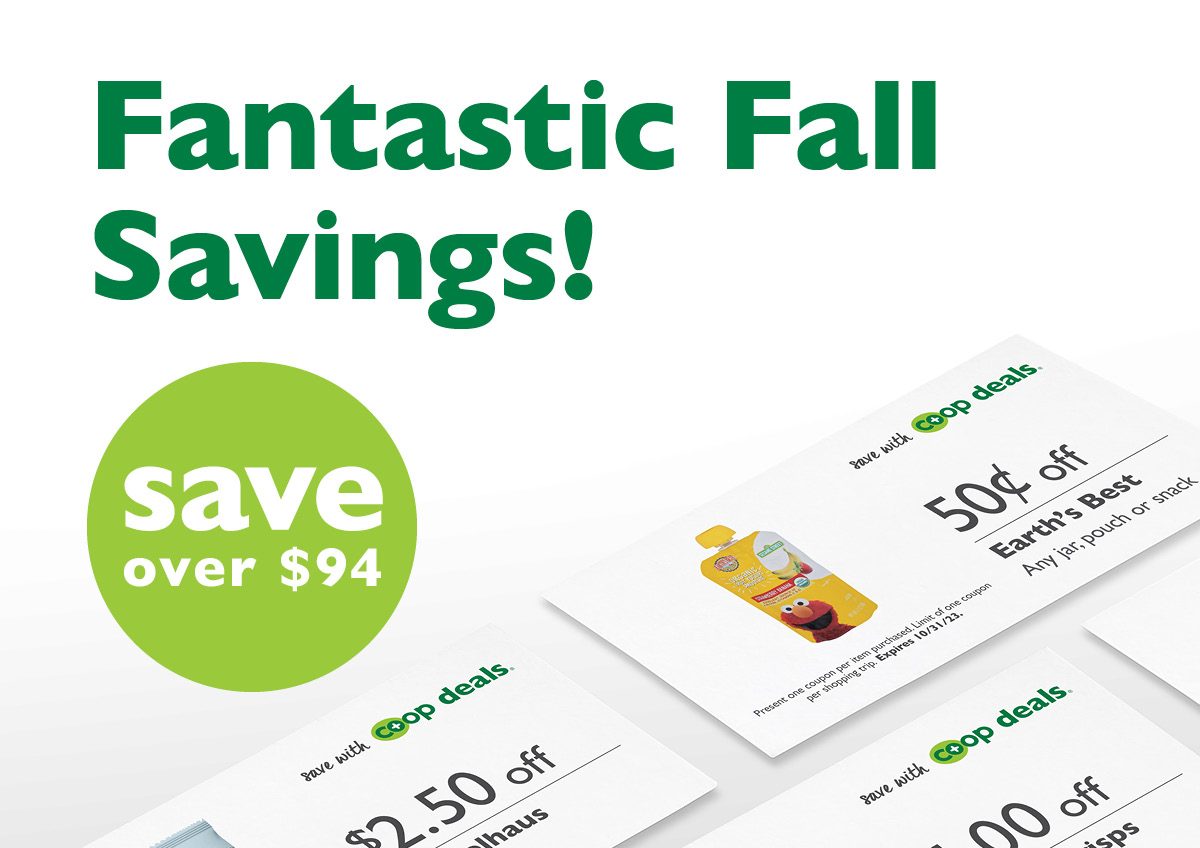 Save with coupons throughout the store!
Look for Co+op Deals coupons throughout the store, and save over $94 on favorite brands, including Annie's, Beyond Meat, and Woodstock  — more than 75 coupons in all! Valid through October 31, 2023.
---
CO+OP BASICS
Looking to stretch your grocery budget? So are we! Look for Co+op Basics signage throughout our store. Co+op Basics offers everyday low prices on many popular grocery and household items. From milk to beef to cereal, you'll find high quality products that are priced right.
Don't worry, we aren't paying our farmers or employees any less. We're simply committed to improving our selection so that everyone can find more value when shopping the Co-op. Look for this sign: