Curried Lentil + Chickpea Stew
Recipe Information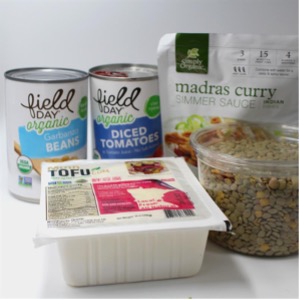 Prep Time: 30 minutes
Serves: 4–6
Ingredient Notes: Vegetarian, Vegan
Ingredients
2 cups organic bulk green lentils

1 can (15.5oz) Field Day Organic Garbanzo Beans

1 can (14.5oz) Field Day Organic Diced Tomatoes

1 pouch Simply Organic Madras Curry Simmer Sauce

1 package (16oz) Minn Tofu

2 teaspoons salt
Optional: Consider adding in 3 cups fresh spinach greens and 1 cup frozen peas. Pictured in the finished dish below.
Directions
1. Bring 8–10 cups water to boil. Add lentils and salt. Reduce to a simmer and cook lentils until tender (about 20–25 minutes).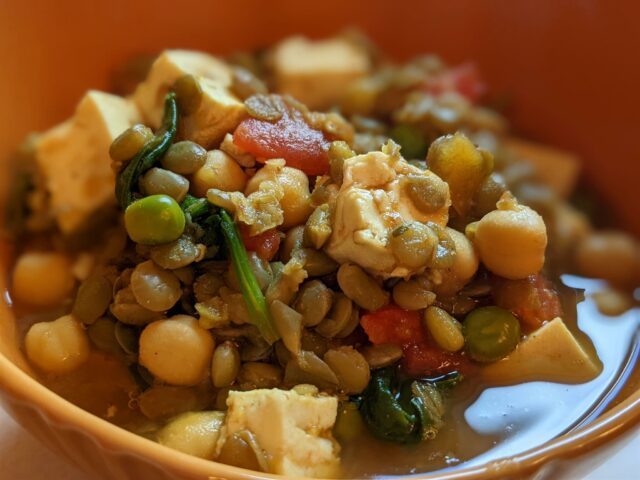 2. While lentils are cooking, cut tofu into 1/2 inch cubes. Drain garbanzo beans. When lentils are cooked, drain and reserve about 3 cups cooking liquid. Set both aside.
3. Place cooking pot back over medium heat and add garbanzo beans, tomatoes, and curry. Bring to a simmer and cook 3–4 minutes.
4. Add cooked lentils. Add 1–3 cups reserved cooking liquid as needed for a saucy stew.
5. Lastly, gently add tofu cubes as desired, bring dish back to a simmer, then serve.
Recipe adapted from PCC Community Market.