You're Invited: Annual Owner Meeting and Dinner on Tuesday, October 29, 2019 from 5:00pm-7:45pm at the DECC Harbor Side Ballroom in Duluth, MN! Any Whole Foods Co-op Owner may attend the meeting including their guests. Advanced registration required, click the link below.
$20 per adult; $5 per child (12 and under). Owners will receive their ticket cost back as $20 co-op gift card upon arrival to the meeting. If you plan to attend the meeting portion only, there is no pre-payment required.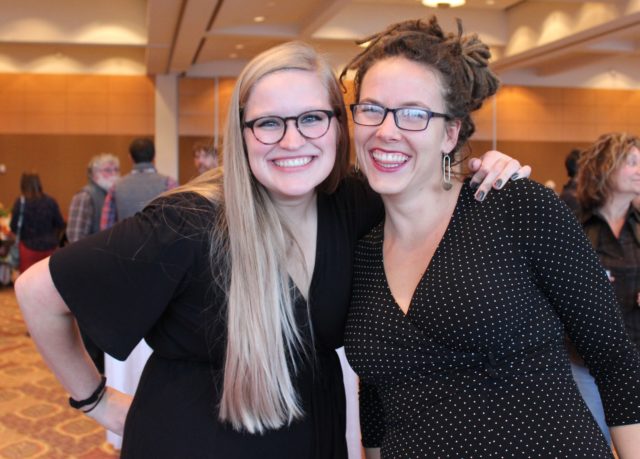 Agenda
5:00 – SOCIAL TIME
Enjoy Fair Trade wine and Bent Paddle Brewing beer – two drink tickets come with each adult ticket! 
DINNER & BUSINESS MEETING
State of the Co-op reports from management and board remarks for the good and welfare of the Co-op
6:15 PM – GUEST SPEAKER
How Cooperatives can spark change and foster community health
6:45 PM – ANNOUNCEMENTS
Board of Directors election results, 2020 GIVE community recipients and prizes (must be present to win).
Dinner Menu
Entrée
Baked Acorn Squash or Lemon Pepper Chicken
Both entrees will be served with Minnesota wild rice topped with spicy walnuts and pesto sauce, salad, with with homemade dressing, dinner roll (available GF) and local roasted root vegetables
Children's Option
Pasta with Meatless Marinara Sauce. Served with Local Roasted Root vegetables. Gluten-free noodles available upon request. Ages 12 and under please.
Dessert
Death by Chocolate – vegetarian & gluten-free
Drink
Soda, organic and/or Fair Trade wine and local beer by Bent Paddle Brewing Co. available at the bar. Two drink tickets come with each adult meal.
Registration and payment accepted: online: www.wholefoods.coop/annualmeeting or in person: Hillside or Denfeld Customer Service Counter or by calling: 218.728.0884, press 1, have meal selection and credit or debit card ready. Confirmation of pre-payment includes a DECC parking pass for free parking at this event.