In this issue…
Denfeld is Almost Here!

In Season

—

Microgreens

Round Up for CHUM
The countdown begins! Our Denfeld location will be opening in 7 days, assuming everything runs according to plan. Keep your fingers crossed for us!
It's been a long journey, and we couldn't have done it without you! WFC Owners, shoppers, and the community have made this step forward possible, and we're thrilled to be expanding to the Denfeld neighborhood.
For more information about the Denfeld store, check out this Duluth News Tribune article featuring the new building, our Owners, and more! We were also featured for our Leadership in Energy and Environmental Design certification, which we will have at both locations.

Toast with us! Join us as we celebrate the opening of our new location in the Denfeld neighborhood! We'll be hosting a cocktail reception at Vikre Distillery on Sunday, March 20th, 7:00 PM — 10:00 PM.
We've all felt guilty about our diet at some point. Everyday we learn new information about the horrors of our factory farming system, agriculture's far-reaching environmental impacts, livestock animal abuse, and, of course, the personal health implications of our dietary choices.
The messaging is negative, uninspiring, and often contradictory. "Go vegan to protest the system. Cut out sugar. Eat no fat. Eat a lot of fat. Eat only coconut fat. Gluten turns your brain to mush. Eat superfoods. Eat this or that to reduce inflammation." Deciphering what is myth and what is true will leave anyone feeling guilty, confused, and hangry! What should we believe? Most importantly, what should we eat? Enough is enough. Instead of playing the shame game, let's make food enjoyable again.
I believe in moderation, and above all else, happiness.
Eat happy food, no matter what food it may be. Eat bacon from pigs who had a happy life, raised locally when possible, and treated humanely. Eat happy fruits and vegetables, grown in nutrient-rich soil, and without the use of chemicals harming our pollinators and polluting our waterways. Eat happy bread, baked by happy bakers, rather than in a large factory.
Eating in moderation means eating a diverse diet, filled with healthy, whole foods, as well as indulging in the foods that feed your soul. In a world of moderation, excluding foods from your diet (except in the case of allergies!) isn't necessary. Listen to your body and what helps it function properly. Eat what makes you happy. If that food isn't healthy for your body, is bad for the environment, or isn't produced locally or humanely, eat it in moderation, and savor it.
Happiness is sown in many places. Spread the good karma by supporting local food and good practices. I guarantee you'll feel it too— in your belly and your heart.
Microgreens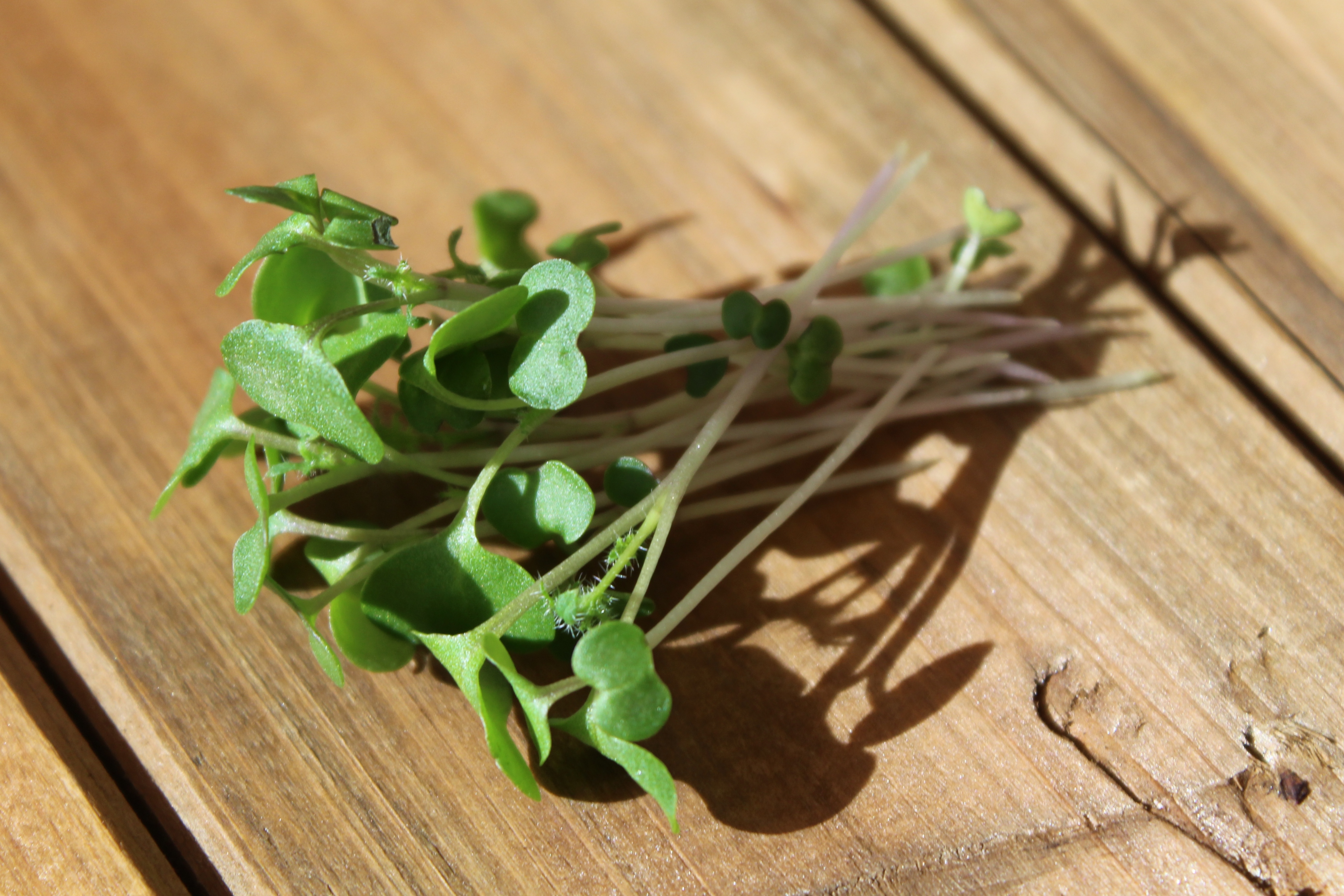 Microgreens are tiny, flavor-packed, nutrient-dense greens harvested just 7-14 days after seeding. They can be the greens of nearly any vegetable that you can imagine. Popular microgreens include greens such as kale, chard, and lettuce, herbs such as basil, cilantro, and chives, and other vegetables such as broccoli, radishes, beets, turnips, and even sunflowers!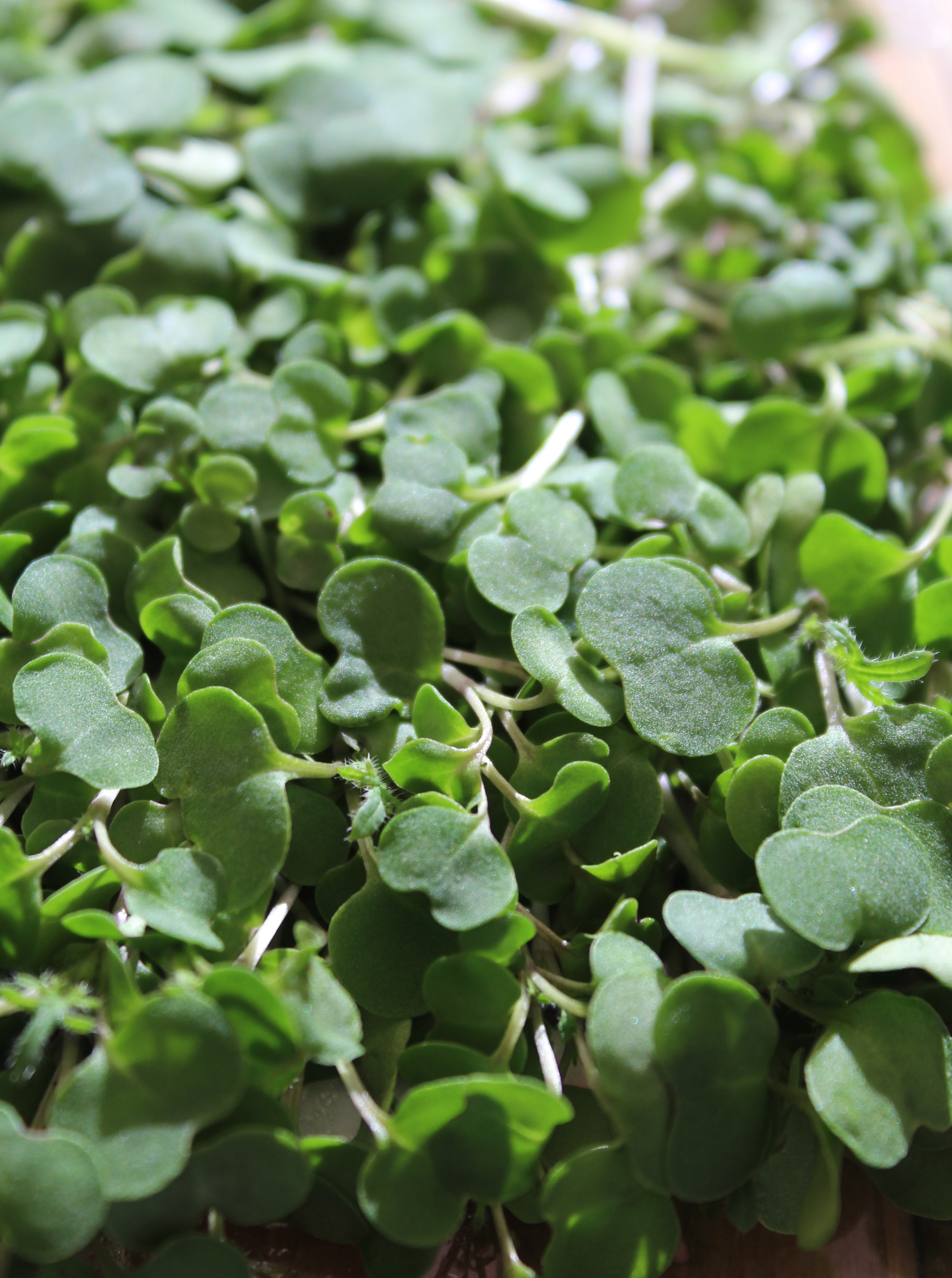 These juvenile greens were first introduced to fine dining as an added flavor and visual component to a dish. Although they're small, they are very colorful and pack an intense punch of flavor. It was later discovered that microgreens are not only delicious, they're highly nutritious. In comparison to the mature leaves of the same plant, microgreens contain 4-6 times more nutrients!
Don't confuse these greens with sprouts! While microgreens are planted and harvested just like salad greens, sprouts are seeds germinated in water for roughly 48 hours, just long enough to develop a root, stem, and underdeveloped leaves.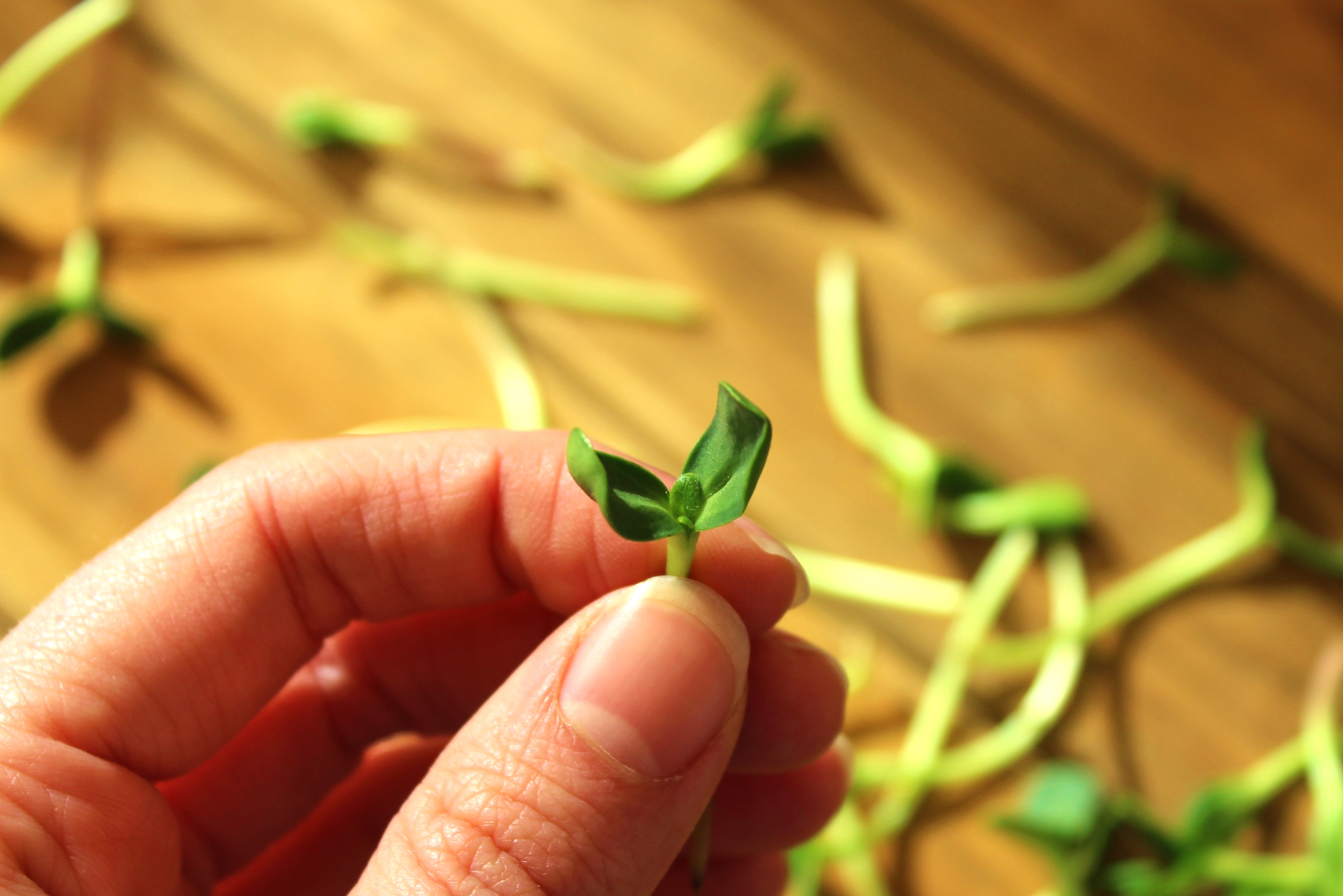 Try microgreens as an addition to a salad, or use them in any way you'd use fresh herbs. They are an incredible addition to an omelet or tossed on top of scrambled eggs. Throw basil microgreens on top of your pizza, pasta, or dessert (Chocolate Strawberry Tart with Whipped Goat Cheese!). Choose your favorite variety and add them into sandwiches, tacos, or burgers!
Meet Pam!
In her own words…
"I'm a 30-year Hillside neighborhood resident and the Executive Director of the Local Initiatives Support Corporation (LISC)
office in Duluth.
Duluth LISC has been working in our neighborhoods for over 18 years to build healthy, sustainable neighborhoods where both people and places prosper. Access to healthy food, successful local businesses, employment, and jobs with good wages is a part of this."
What does Pam love most about Whole Foods Co-op?
"I love the short drive or bike ride from our home to access Whole Foods' fresh produce and the fact that much of it is local. I'm very excited that Whole Foods Co-op is expanding to serve Duluth's western neighborhoods, and plan to shop there as well."
Thanks Pam!
Interested in being highlighted as a WFC Owner? Contact Allison Heitmiller, Education & Outreach Coordinator, at aheitmiller@wholefoods.coop.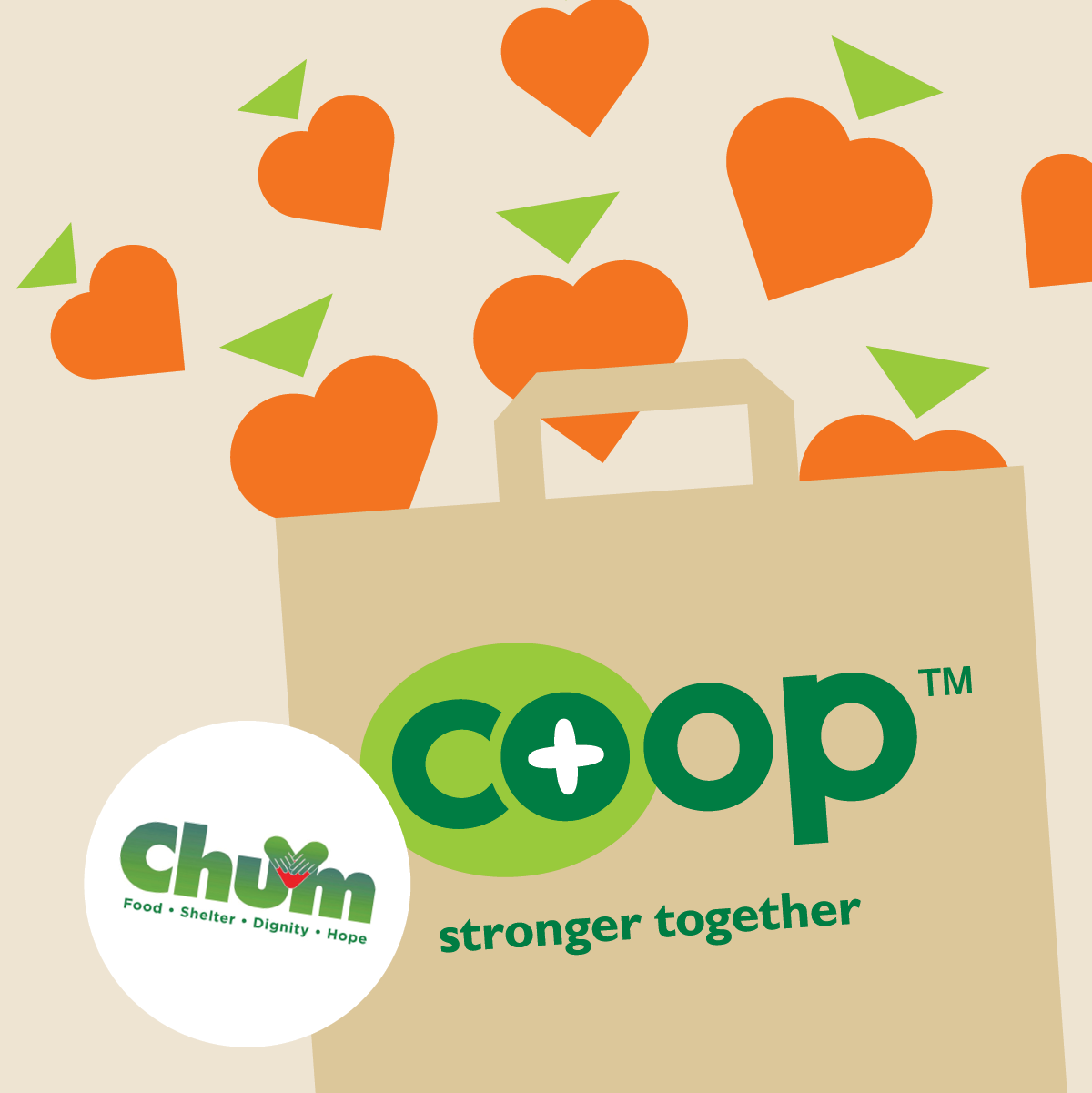 Ask your cashier to round up to the nearest dollar at the register to donate to CHUM for MN Foodshare Month!
We'll be rounding up at two stores for the first time!
Food donations will be collected at both the Hillside and Denfeld locations on March 25th and 26th.

Saturday, March 12
10:00AM — 12:00PM
Easy Porkbelly Recipes
WFC Hillside Classroom
Saturday, March 19
10:00AM — 12:00PM
Coffee: From Origin to Cup
WFC Hillside Classroom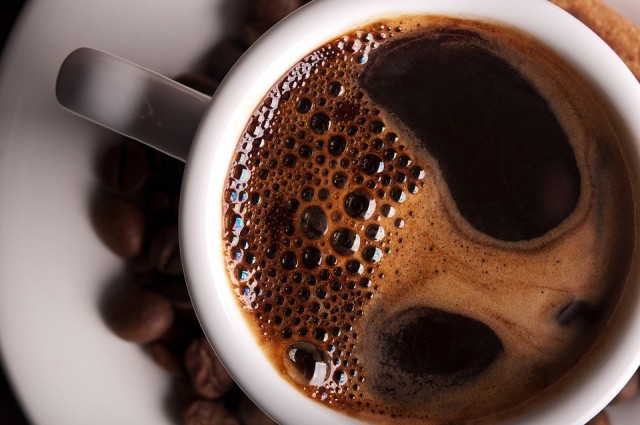 Sunday, March 20
7:00PM
—

10:00PM
Co-op Cocktail Reception
Vikre Distillery