Red Curry Vegetables
Recipe Information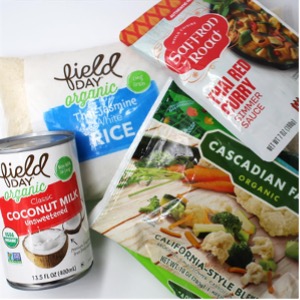 Prep Time: 30 minutes
Serves: 4-6
Ingredient Notes: Vegetarian, Vegan
Ingredients
1 cup Field Day Organic Thai Jasmine White Rice

1 bag (10oz) Cascadian Farm Frozen Organic California-Style Blend Vegetables

1 can (13.75oz) Field Day Organic Unsweetened Coconut Milk

1 pouch Saffron Road Thai Red Curry Simmer Sauce

1 medium onion

2 teaspoons salt

1 tablespoon cooking oil of choice
Optional: Consider substituting frozen vegetables for local fresh broccoli, cauliflower, and carrots if you have more time for prep.
Directions
1. Bring 1 1/2 cups water to boil. Stir in 1 cup rice and 2 teaspoons salt. Reduce to low, cover, and cook until tender (about 20 minutes).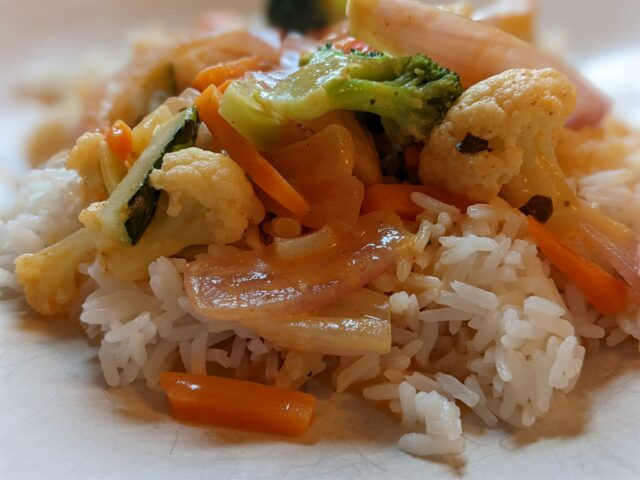 2. While rice is cooking, in a deep saute pan over medium heat, add 1 tablespoon oil and onion. Stir-fry until crisp-tender (about 5 minutes).
3. Add Thai Red Curry Simmer Sauce. Then, add frozen vegetables, cover and cook stirring occasionally for 5 minutes.
4. Stir in coconut milk to taste and spice preference, start with 1/2 a can. Reduce heat to low and cook until heated through. (Do not boil or sauce will thin.)
5. Serve over rice.
Recipe adapted from PCC Community Market.