Easy Cheesy Black Bean Quesadillas
Recipe Information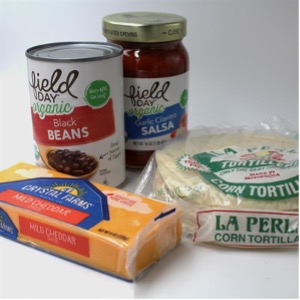 Prep Time: 30 minutes
Serves: 4
Ingredient Notes: Vegetarian
Ingredients
1 can (15oz) Field Day Organic Black Beans

1 jar (16oz) Field Day Organic Garlic Cilantro Salsa

1 package La Perla Corn Tortillas (local)

1 package (8oz) Crystal Farms Mild Cheddar Cheese Block
Directions
1. Shred 1/2 block of cheddar cheese. Drain black beans and mix 1/2 a jar of the beans and 1/2 a jar of the salsa together in a bowl.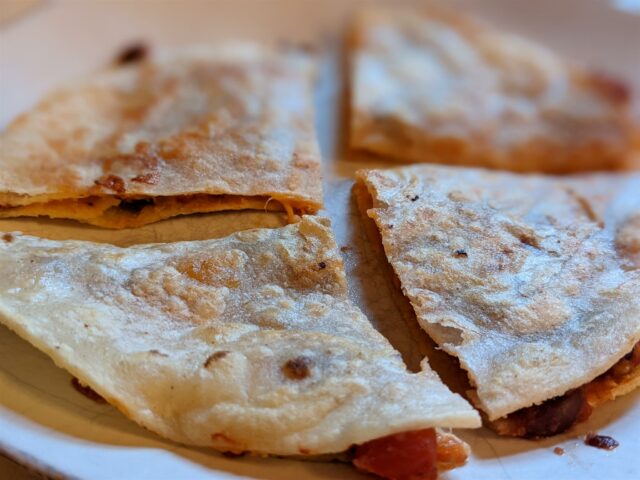 2. Brush softened butter or oil on one side of two tortillas. Place one tortilla brushed side down in a skillet or griddle over medium heat.
3. Spread 1/4 of cheese on top of the tortilla and top with a generous spoonful of black bean and salsa mixture. Place the other tortilla, brushed side up, on top.
4. Cook until the bottom tortilla is golden brown. Using a pancake turner, carefully turn the quesadilla over and cook until golden brown. Repeat the process 3 more times with the remaining ingredients.
5. Cut each quesadilla into 4-6 wedges and serve any extra salsa on the side.
Tip: keep the quesadillas warm in a 200° F oven until they are all finished.
Recipe adapted from PCC Community Market.