12 Days of Co-op Cheer
Use our themes as inspiration to curate a perfect gift. In the spirit of supporting Local, we tried to connect products you can find at our store from Local vendors. Our gift inventory is constantly changing, selections may differ at each location.
A Co-op canvas tote is a great way to bundle it all together!
Available at our customer service counter.

Charcuterie
• Black truffle cheese (Local – Carr Valley)
• Aged red Leicester cheese
• Maple bourbon goat cheese (Local – LaClare Family Creamery)
• Caramelized onion jam
• Cranberry white cheddar (Local)
• Finocchiona salami (Local – Driftless Provisions)
• Cacciatore salami (Local – Driftless Provisions)
• Vat 17 World Cheddar cheese (Local – Deer Creek Cheese)
• Lingonberries
• Yuzu marmalade
• Epicurean cutting board (Local)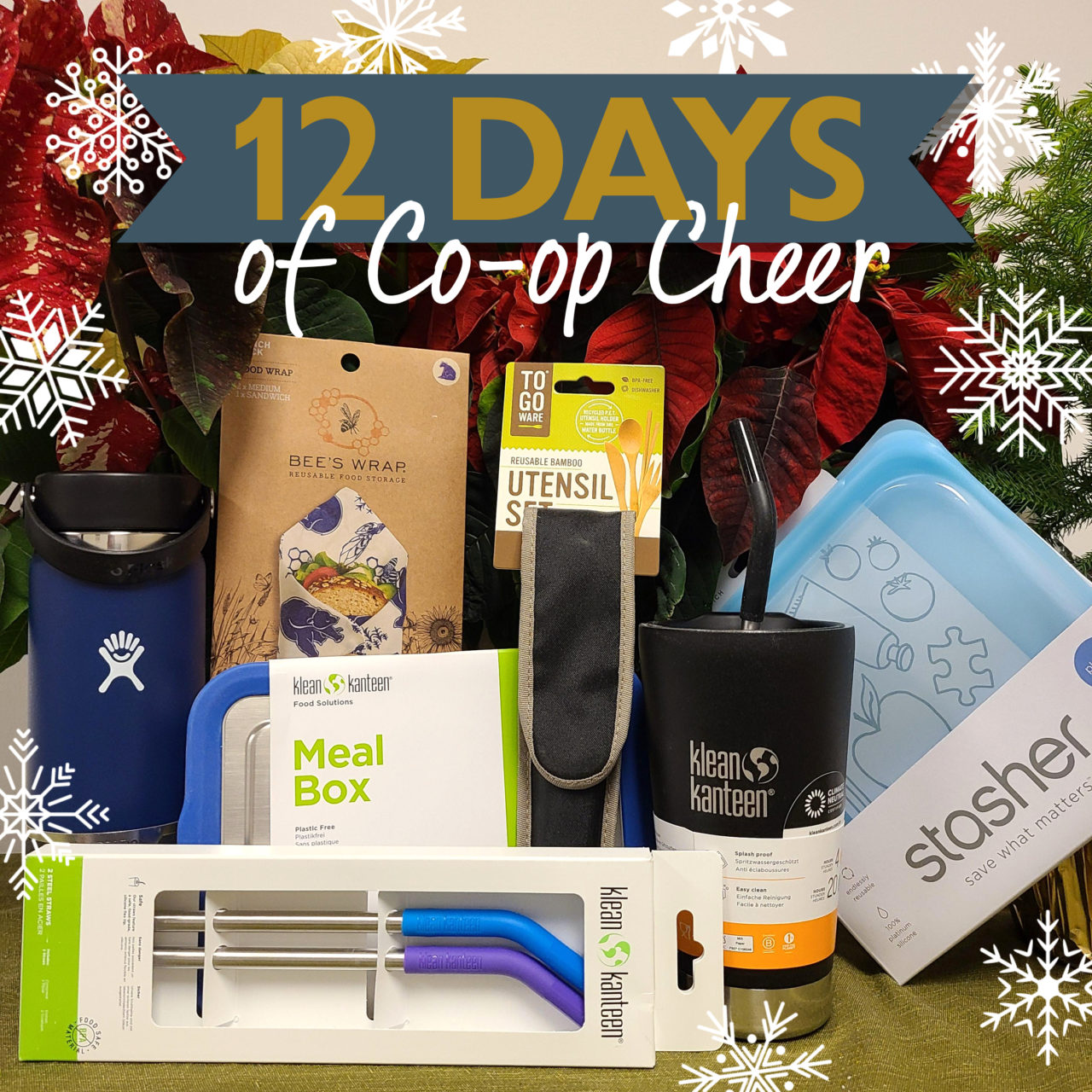 Eco-friendly
• Hydro Flask travel mug
• Reusable steel straws
• Meal Box
• Beeswax food wraps
• Reusable bamboo utensil set
• Klean Kanteen tumbler
• Reusable sandwich bags

Fair Trade
• Terra Natural Designs earrings
• Terra Natural Designs scarf
• Terra Natural Designs bag
• Endangered Species Chocolate
• Equal Exchange Coffee
• Equal Exchange hot cocoa
• Equal Exchange tea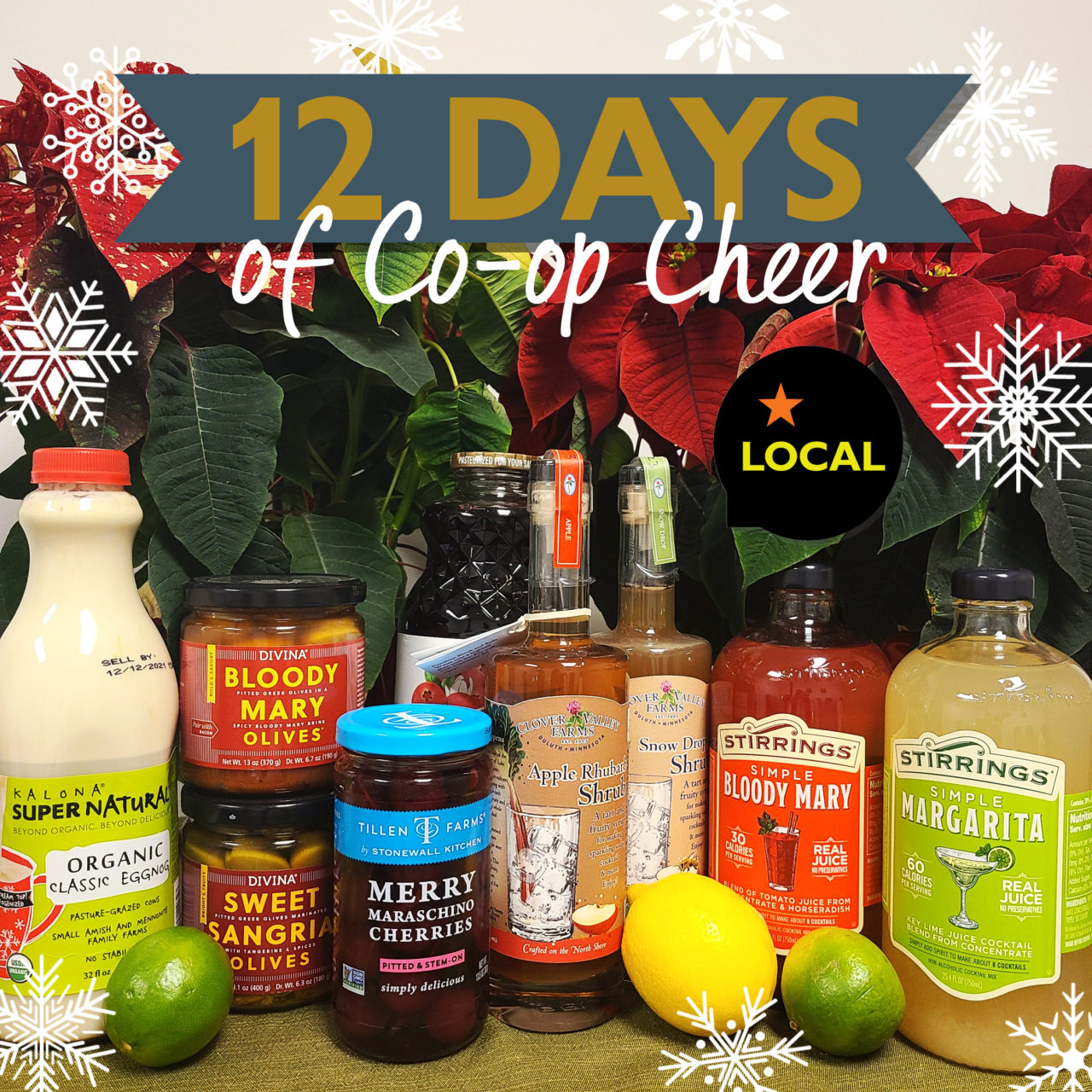 Merry Mixology
• Organic eggnog
• Bloody Mary olives
• Sweet Sangria olives
• Maraschino cherries
• Cranberry juice
• Apple rhubarb shrub (Local – Clover Valley Farms)
• Snow Drop shrub (Local – Clover Valley Farms)
• Bloody Mary mix
• Margarita mix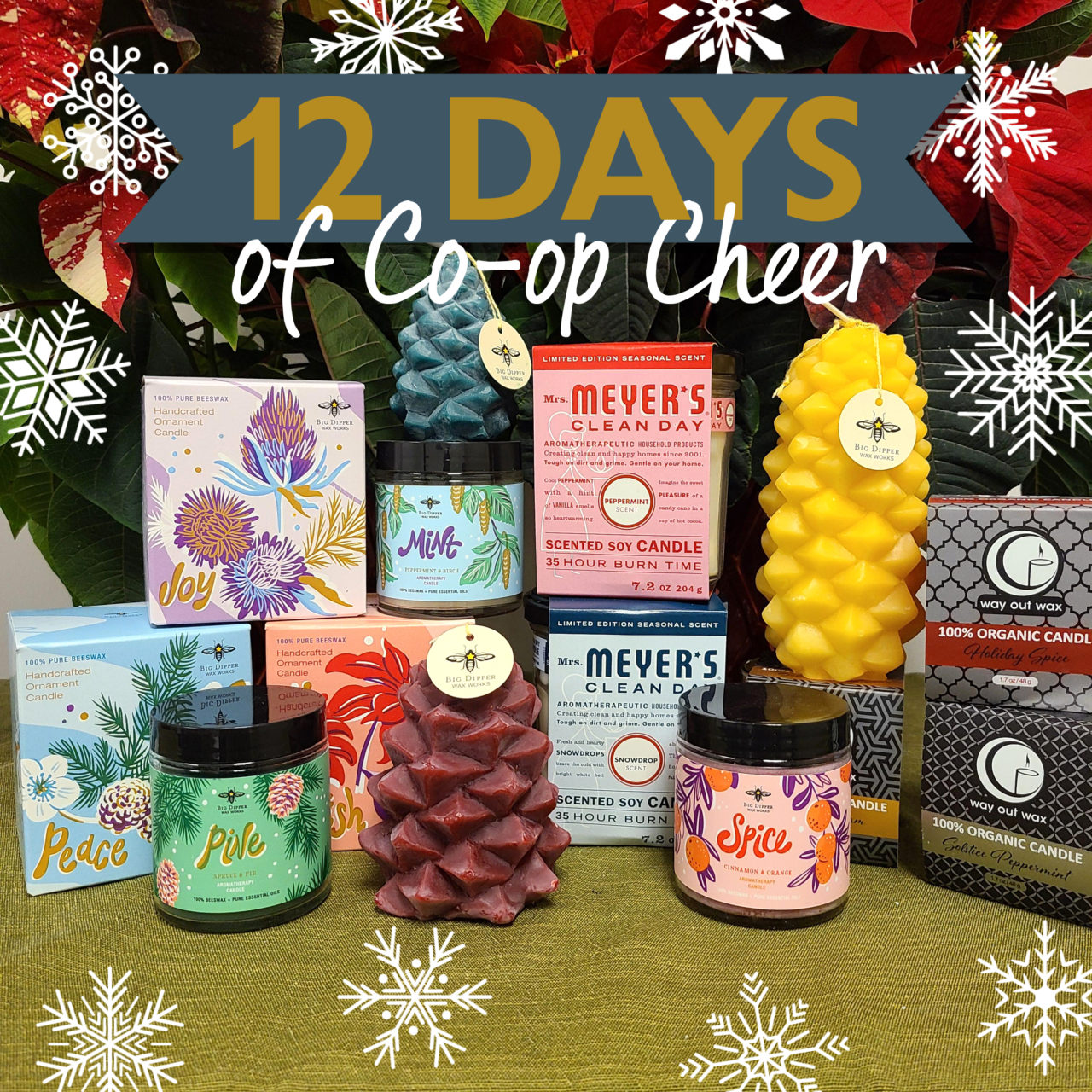 Light Up the Holidays
• Beeswax candles
• Beeswax essential oil candles
• Aroma-therapeutic soy candles
• Organic candles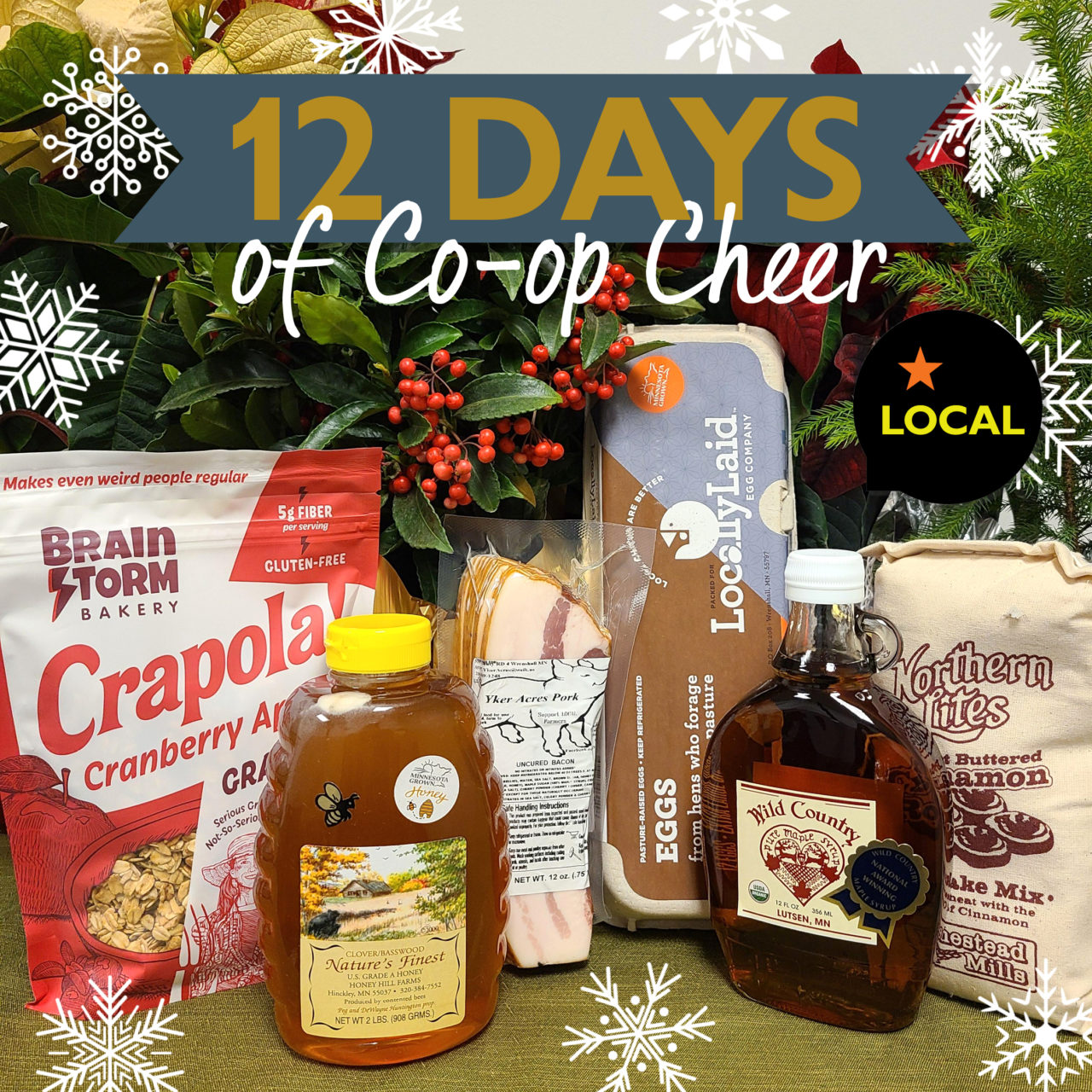 Local Breakfast
• Cranberry apple granola (Local – Crapola!)
• Honey (Local – Nature's Finest Honey Hill Farm)
• Uncured bacon (Local – Yker Acres)
• Pasture-raised eggs (Local – Locally Laid)
• Pure maple syrup (Local – Wild Country Syrup)
• Pancake mix (Local – Homestead Mills)

Wellness
• Lip balm (Local – Auntie's Smootches)
• Comfrey lotion (Local – Wild Fern Herbal)
• Skin salves (Local – Stacey's)
• Foot balm lotion (Local – Wild Fern Herbal)
• Soap (Local – Wild Fern Herbal)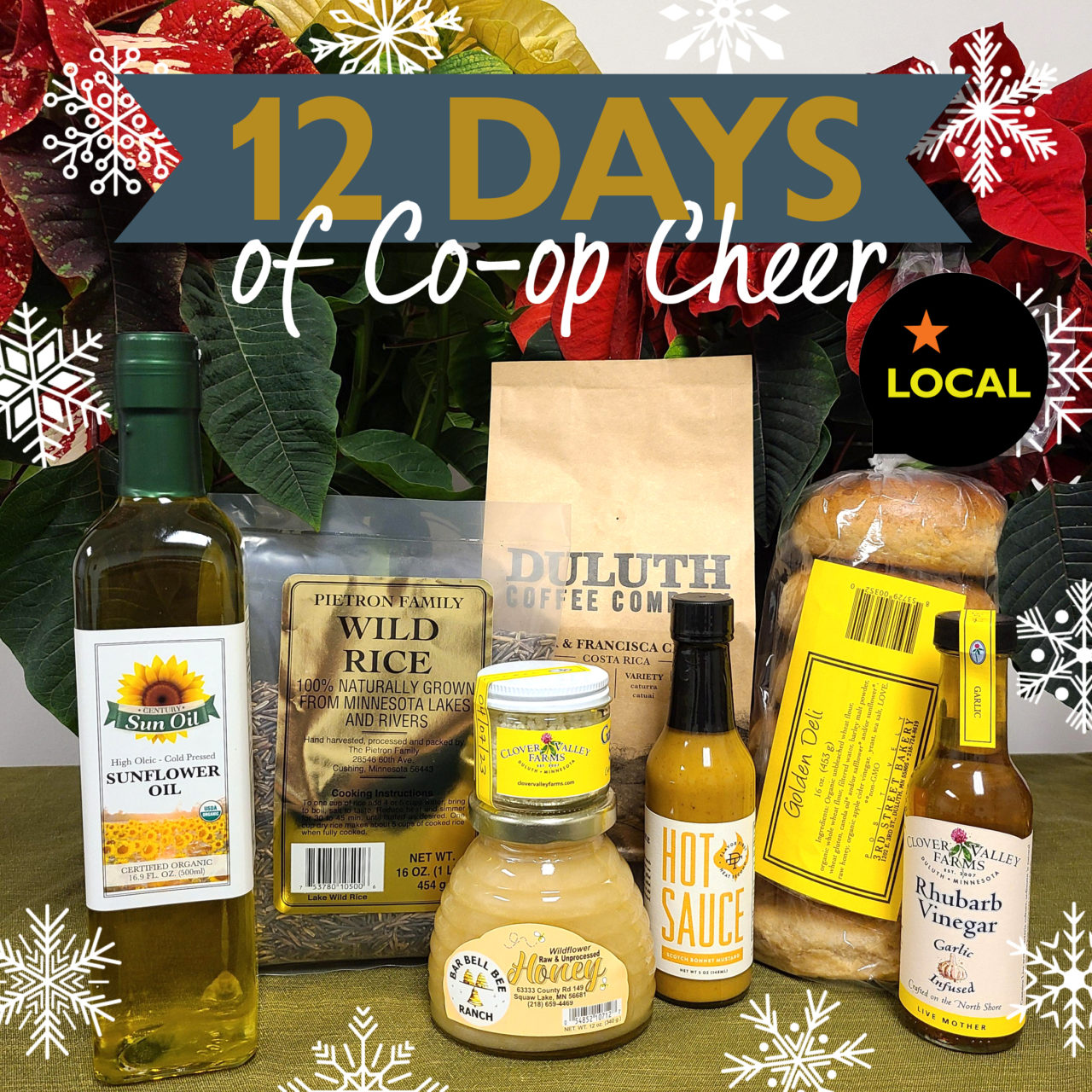 Locally Produced
• Sunflower oil (Local – Century Sun Oil)
• Wild rice (Local – Pietron Family Wild Rice)
• Honey (Local – Bar Bell Bee Honey)
• Coffee (Local – Duluth Coffee Company)
• Hot sauce (Local – Double Take Salsa)
• Bakery breads (Local – Positively 3rd Street)
• Infused vinegar and salt (Local – Clover Valley Farms)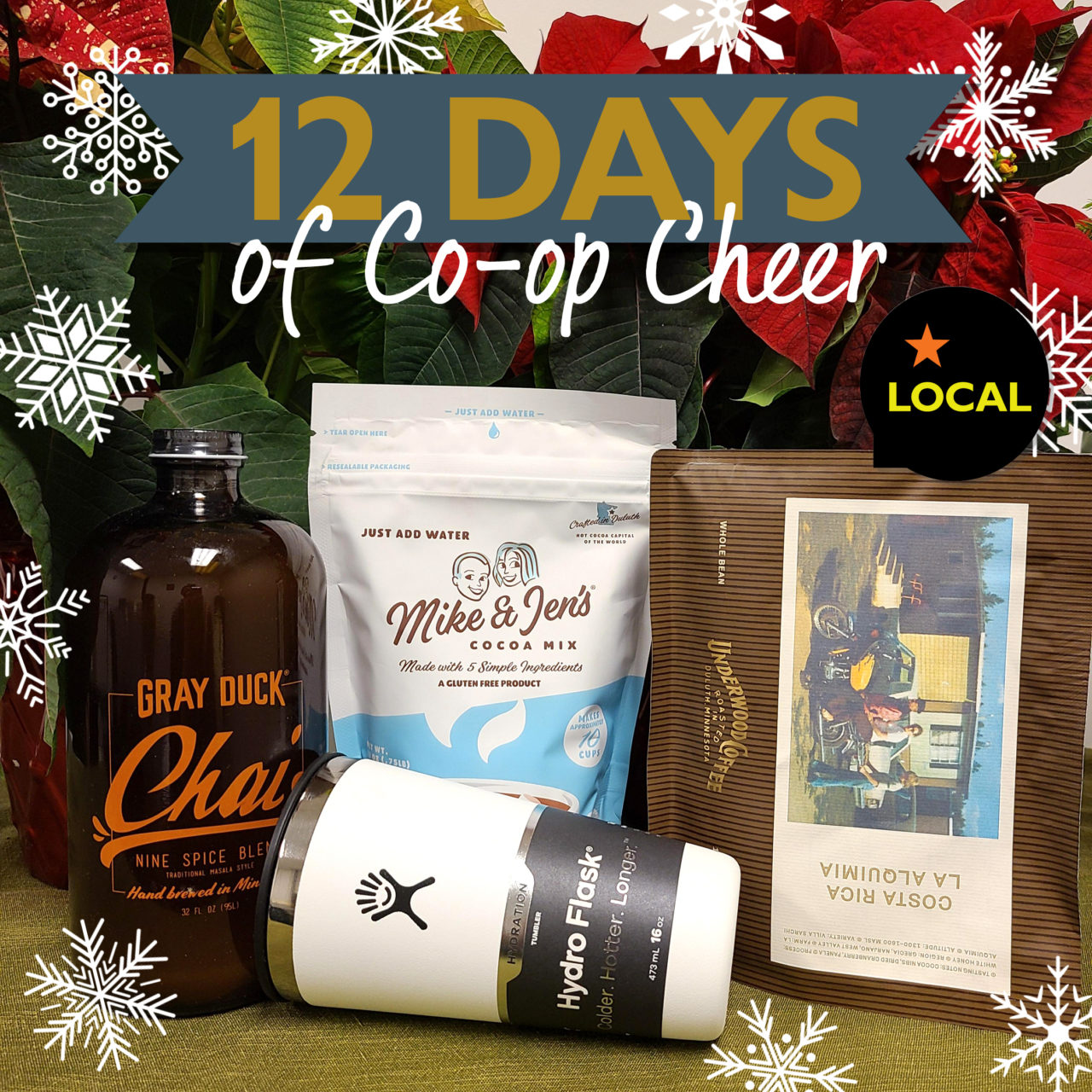 Warm & Cozy
• Chai tea (Local – Grey Duck)
• Cocoa mix (Local – Mike and Jen's)
• Hydro Flask tumbler
• Coffee (Local – Underwood Coffee)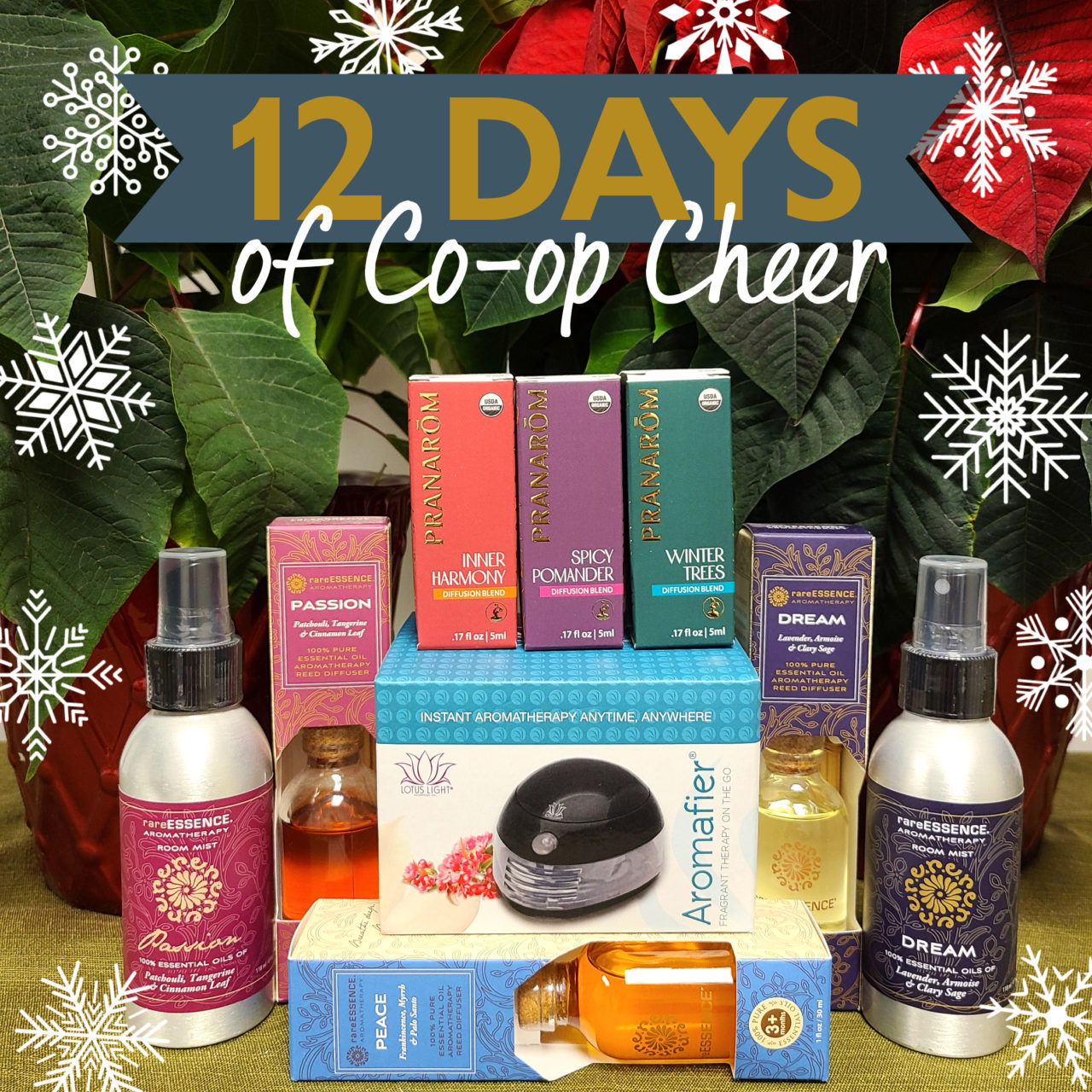 Holiday Scents
• Room mists
• Aromatherapy reed diffusers
• Portable essential oil diffuser
• Essential oils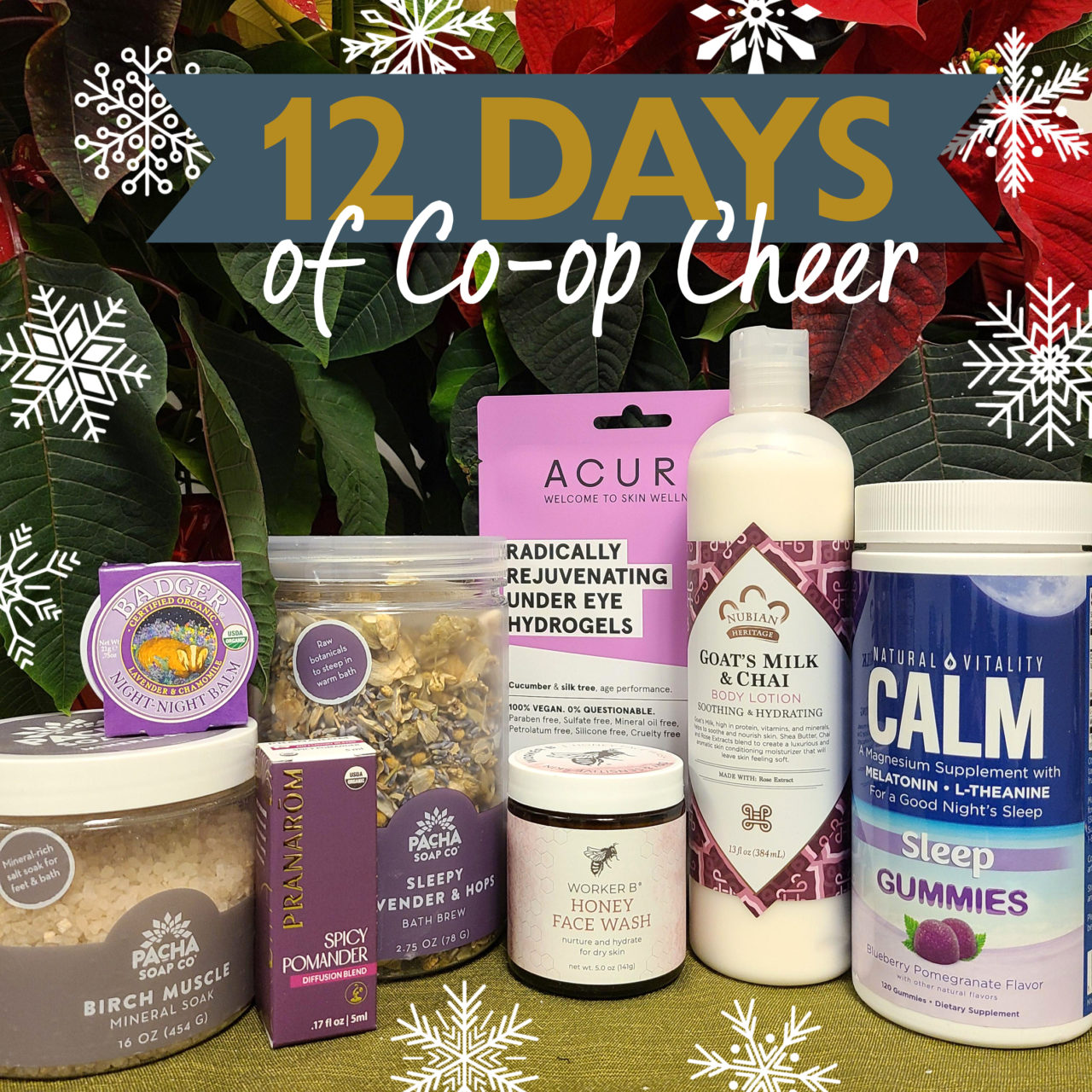 Spa Day
• Mineral soak
• Essential oils
• Lip balm
• Bath brew
• Honey face wash
• Under eye hydrogels
• Body lotion
• Sleep supplements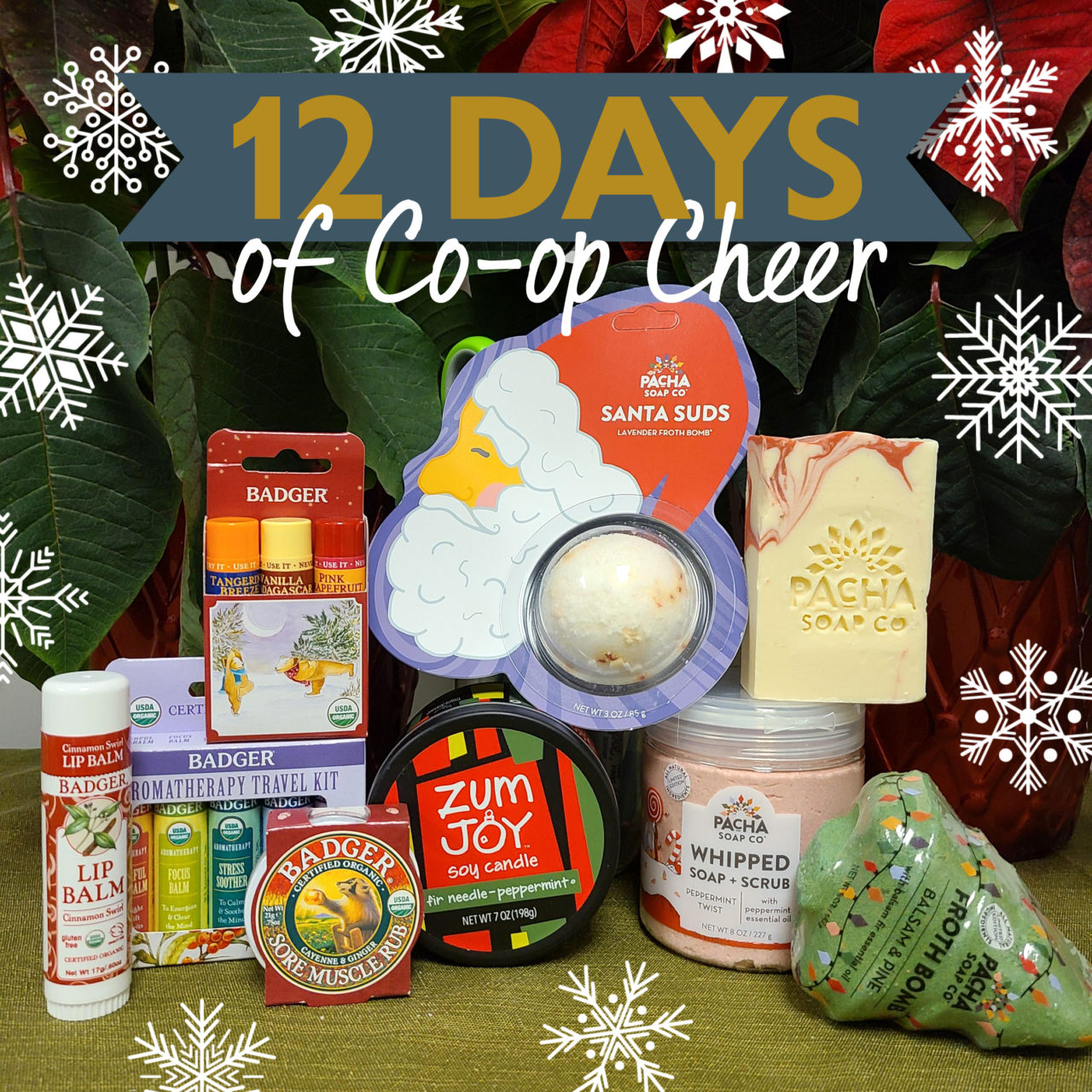 Stocking Stuffers
• Lip Balm
• Aromatherapy travel kit
• Sore muscle rub
• Soy candles
• Santa Suds bath bomb
• Soap
• Whipped soap+scrub
• Froth bath bomb