Let us do the work for you!
We'll provide everything but the bird so you can relax and enjoy the holiday.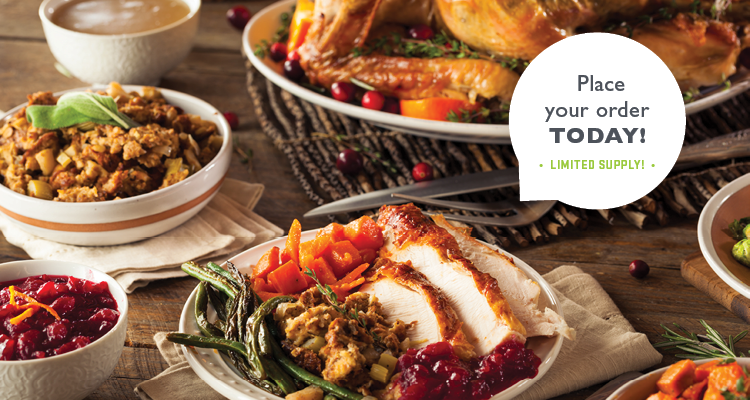 This year, we are offering Everything but the Bird Thanksgiving dinners for special order. Each dinner includes all the feast fixin's needed to entertain 6–8 guests for the holiday.
All items are made-from-scratch by our very own, Fog City Deli!
Everything but the Bird……………………….$99.99
WF = made without wheat, V = vegan, VEG = Vegetarian
Each dinner includes:
Smashed Red Potatoes | VEG, WF (2 qt.)
Wild Rice Pilaf | WF, V (1.5 qt.)
Sage Stuffing  | VEG (1.5 qt.)
Maple Pecan Yams | WF, V (1.5 qt.)
Turkey Gravy | (1.5 qt.)
— or — Vegetarian Mushroom Gravy | VEG (1.5 qt.)
Green Beans Amandine | WF, V (2 qt.)

Cranberry Chutney  | WF, V (1 pt.)

FRANKLIN STREET Dinner Rolls | (8 qty.)
RUSTIC INN CAFÉ Pumpkin Pie | (1 qty.)
— or — DOWN IN THE VALLEY Pumpkin Pie | WF, VEG (1 qty.)
All this for only $99.99!
Fully cooked, sliced, boneless white meat turkey available by request.
No substitutions, please. All items also available individually by the pound.
How to Place Your Order
Call 218-728-0884 and ask for the Deli. Orders can also be taken in person at either WFC location our Deli team. Please note: we do not currently accept orders via email.
Order Details:
Limited availability, please order early.

Special order discounts do not apply.

Full dinner orders must be placed and paid in full by 9 PM Thursday, November 17.
Pie orders must be placed and paid in full by 9 PM Thursday, November 17.
Orders must be picked up by NOON, Wednesday, November 23.
---
Are more guests coming to your Thanksgiving dinner than you expected? Have no fear! Pick up extra sides, condiments, and desserts in our deli. From gravy and stuffing to potatoes and pies, we have a variety that is guaranteed to please.