Since 2016, GIVE has made it simple for shoppers to support positive change in our community!  Shoppers make small donations at the register by rounding up their purchases. This small change makes a big difference.   
To date, shoppers have donated over $300,000.   These donations have gone directly to organizations and programs that align with the Co-op's larger objectives: To support a healthy and vibrant community.  

"AICHO honors the resiliency of Native American people by strengthening communities and centering Indigenous values in all aspects of our work; we provide housing and supportive services while also managing arts, cultural, and food sovereignty initiatives in Duluth. Our operating philosophy is that every Native American deserves to live in a non-violent and non-threatening environment and has the right to be treated with dignity and respect."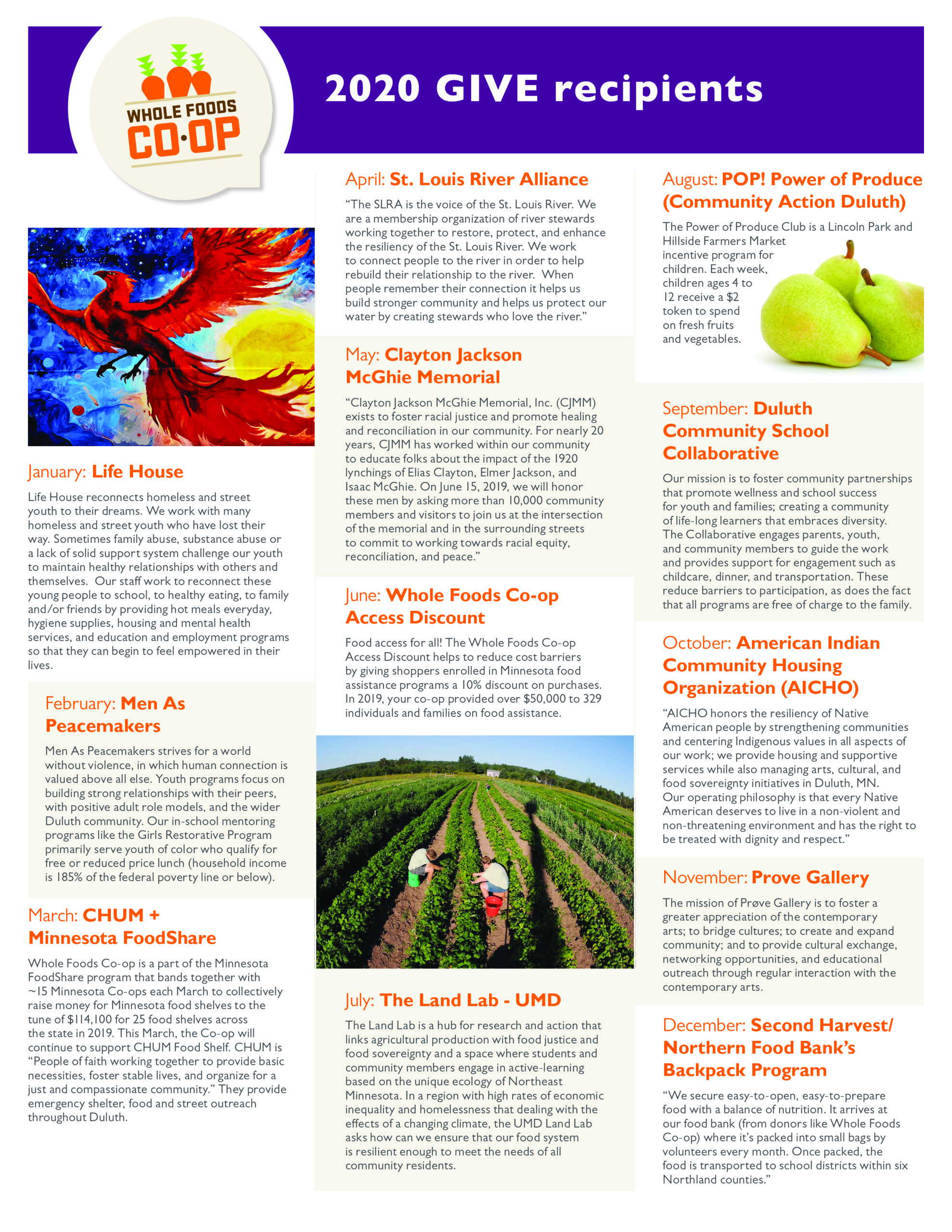 Congrats 2021 GIVE Recipients!
JANUARY  //   Duluth Branch NAACP
The Health Committee fulfills the NAACP's commitment to eliminating the racial and ethnic disparities in our healthcare system that plague people of color in the United States.
The mission of the National Association for the Advancement of Colored People is to ensure the political, educational, social, and economic equality of rights of all persons and to eliminate race-based discrimination. The Health Committee fulfills the NAACP's commitment to eliminating the racial and ethnic disparities in our healthcare system that plague people of color in the United States. The Committee has been working with the Morgan Park Community Club to engage neighbors in visioning and building a community garden and networking with organizations to provide support to the food justice efforts. 
FEBRUARY  //   Safe Haven Shelter and Resource Center
Providing safety, space to heal, advocacy, and empowerment for women, children and all survivors of domestic violence. 
Our Shelter houses over 500 survivors every year, while more than 1,500 survivors access legal advocacy, safety planning, self-sufficiency guidance and youth support through our drop-in Resource Center. Safe Haven's comprehensive programming supports survivors through their entire journey from crisis management to lasting freedom from domestic violence. Serving the seven-county region of northeastern Minnesota, we aim to provide both direct service and community awareness and outreach programming.
MARCH  //  CHUM + Minnesota FoodShare
Providing emergency shelter, food, and street outreach throughout Duluth. Whole Foods Co-op bands together with 15+ Co-ops in March to raise money for Minnesota food shelves. 
CHUM is people of faith working together to provide basic necessities, foster stable lives, and organize for a just and compassionate community.
APRIL  //  Western Lake Superior Habitat for Humanity
Repairing 18 homes for lower-income families in 2021 and reducing the environmental footprint of new construction.  
Our primary goals are to increase the stock of quality housing for lower-income community members, improve the condition of existing housing for those members (especially elders, single-parent families, veterans, families with disabilities, and other homeowners), and enhance community and neighborhood environments for all area residents. In 2021 we plan to repair 18 homes by making repairs to improve home safety and accessibility—this helps families minimize their environmental footprint by eliminating the need for new construction.
MAY  //  Hartley Nature Center
Using our expansive ecological and biological diversity to teach the region about sustainable and responsible land stewardship and water protection.
We provide an array of recreational, educational, and volunteer opportunities, as well as welcoming gateway and educational services to improve and augment users' experiences, including interpretive displays and signage, ski, snowshoe and other equipment rental, maps and trail guides, on-site naturalists, and other amenities. The parks' array of recreational opportunities, coupled with the nature center's suite of services, breaks down barriers to participation and helps all ages and skill levels to get outside and gain a deeper connection with wild places. 
JUNE  //  Whole Foods Co-op Access Discount
Helping to reduce cost barriers by giving shoppers enrolled in Minnesota food assistance programs a 10% discount on purchases. In 2020, the Co-op provided over $60,000 to 373 individual and families with limited means. 
JULY  //  Duluth Community Garden Program
Making gardening accessible to anyone through 21 community gardens with 200 plots. 
We work towards a healthy community for all Duluthians by making gardening accessible to anyone seeking to increase their access to fresh produce by providing gardening space in our 21 community gardens with 200 plots, gardening education to support gardener success, a gardening tool and food processing equipment library and annual events that build social connections. Plot rental is on a sliding scale from $0-$200/year. In 2020, about 70% of our gardeners paid a reduced plot fee based on income. As a result, we need to seek out extra support to make up for the cost of subsidizing plots.
AUGUST   //  WE Health Clinic
Our vision is that every individual controls their own sexual and reproductive health. 
WE Health Clinic aims to improve reproductive and sexual health disparities amongst minority groups, including preventing unintended pregnancies, creating access to contraception, abortion, LGBTQ+ healthcare and HIV/Sexually Transmitted Infections (STI) by increasing access and providing client centered sexual and reproductive healthcare. In 2018, WHC expanded its services to include LGBTQ+ and transgender care due to the tremendous, increased community need.
SEPTEMBER   //  Sustainable Farming Association, Lake Superior chapter (LSSFA)
Supporting the development and enhancement of sustainable farming systems through farmer-to-farmer networking, innovation, demonstration and education. 
We are a coalition of producers and consumers striving to move food and farming systems into a sustainable future. The work of LSSFA is to enhance our regional food ecosystem by connecting the humans within it and by promoting the principles of soil health for truly sustainable farming.

 LSSFA serves the western Lake Superior region which includes northeast Minnesota and northwest Wisconsin. We just launched www.RootsandRecipes.org as a recipe sharing platform, to encourage eating local year-round, and to connect eaters to local farmers.
OCTOBER   //  Family Freedom Center
Engage, empower, and educate the Black community by connecting entrepreneurs with business leaders and more. 
We seek to empower the Black community by reconstructing socio-cultural narratives and unapologetically embracing what it means to be Black, both historically and present day. We engage, empower, and educate our members in three core programming. First, business startups where we help People of Color entrepreneurs start their first business with the help of business leaders in the community. Second, we have an internal micro-business that facilitates anti-racist and diversity workshops for schools and businesses in the community as well as nationwide. Third, we host Freedom Summer programming which allows the community to come together and learn skills from each other in a workshop format every Friday and Saturday during the Summer. 
NOVEMBER   //  Ecolibrium3
Building community sustainability and resiliency through projects like the Lincoln Park Solar Garden 
Our mission is to lead and inspire change towards an equitable and sustainable future. Our oldest program – DEEP – has 

assisted

 over

 1,400 households through 

home energy audits 

and energy efficiency improvements.

 This arm of our work is now known as Eco3 Energy and has expanded to include the Lincoln Park Solar Garden, and Giving Comfort At Home – programs that 

bring extra 

support

 to

 veterans and low income ho

useholds

. Our Eco3 VISTA, Eco3 LNPK, and Main Street Lincoln Park programs focus on community sustainability, energy transition, housing stock improvement, economic security, food access, and health. 
DECEMBER  // The American Indian Community Housing Organization (AICHO)
Centering Indigenous values in all aspects of our work like reclaiming healthy and Indigenous foods. 
The American Indian Community Housing Organization has operated successful programming for 27 years including emergency shelter, supportive housing, and community support services. AICHO was created to establish an Indigenous response to social conditions in Duluth and works to resolve the impact of violence, housing and economic inequity, historical trauma, and systemic racism. After AICHO opened its permanent supportive housing program in 2012, we started offering meals and converted unused rooftop spaces into an urban garden space. This started our journey to reclaim healthy and Indigenous foods.